Knightonia is the overseeing Kingdom and central hub for Knighton trasportation and general area of maintence. Holorails can easily trasport its main civilians and outsiders throughout the land, circling the largest city in all the realm.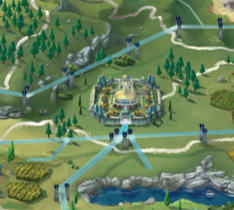 Guarded by a singular fortified gate all holobridges interwoven into a final holobridge and direct towards the city's wall - south - entrance.
Structure
The Kingdom is divided by its inner ward and outer ward all circling around the main Joustdome; a site where most of the grand entertainment and Knight's graduation take places.
Within the inner ward, behind the Joustdome, there stands the Knightonia's royal castle. There resides the Royal Family, Merlok - The Wise, and its staff members. An exclusive area to study magic.
The outer ward contains the resident area, institutions, mainstream entertainment. The central plaza occupied majorly of the Joustdome.
Point of Interest
There several area within Nexo Knights which are seen in the main TV shows several times and sometimes even focus of the episode.
Knighton Castle --

Merlok's Library
Castle's Command Center

Knight's Academy

The Hall of Knights
Training Grounds
The Catacombs

Joustdome
KNN, aka, Knighton News Network
The Realms/Regions
Since the foundation of Knightonia, the capital help mantain the several realms throughout Knighton. Most Regions are govern by Nobles or official Mayor, given the freedom - and depending whether on good terms or not - to support the kingdom with influence and marketing. There remain certain region not within the Kingdom's control such as the petrified forest, the swamp lands, and the once unused Lava Lands.
Realms consist of villages underneath their control or within the land's namesake.
Trivia
Original LEGO Sets
"Make more monsters!"

This article is a stub. You can help the Nexo Knights Wiki by expanding it.
Community content is available under
CC-BY-SA
unless otherwise noted.